When it comes to designing a bathroom, people often give more attention to the tiles, the sink, and the toilet. But what about the bathtub faucet? Your bathtub faucet serves as a crucial element in your bathroom's functionality and style. With so many features available on the market, it's easy to get overwhelmed by all the options.
In this blog post, we will take you through an overview of various bathtub faucet features that you should consider while selecting one for yourself. We have also listed down different types of bathtub faucets and finishes that you can choose from to match your bathroom decor. So let's dive into the world of bathtub faucet features and find out which one is perfect for you.
Bathtub Faucet Features Overview:
When exploring the world of bathtub faucet features, it's essential to understand the various options available. There are three main types of bathtub faucets - wall-mounted, deck-mounted, and freestanding models. Each type offers different benefits, so it's choose important one that suits your needs. Another aspect to consider is materials; you want a faucet that blends in with your bathroom decor while also being durable.
The choice of handles is another important decision. You can choose between single or double handles, cross-shaped or lever-shaped handles, and other options. The flow rate is critical when selecting a bathtub faucet to ensure that it meets your water pressure and Conservation needs. Finally, some bathtub faucets come with additional features like hand showers or diverter valves for added convenience. Knowing these features will help you identify the perfect faucet for your needs.
Choosing the Right Bathtub Faucet Features for You:
When it comes to choosing the right bathtub faucet, there are several features that you need to consider. Firstly, decide whether you want a wall-mounted or deck-mounted faucet. Choose a single lever or two-handle faucet depending on your preference for ease of use. Consider the finish that matches your bathroom decor, such as chrome, brushed nickel, or oil-rubbed bronze.
Sprayer options are also available nowadays. Decide if you want a handheld sprayer or a fixed spout. Check the water flow rate and pressure to ensure it meets your needs for filling the tub efficiently. By considering all these factors, you can choose the perfect bathtub Faucet that suits your needs and adds to your bathroom's overall look and feel.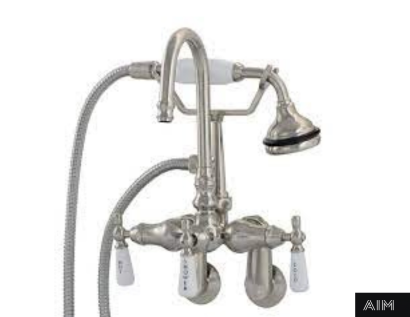 Bathtub Faucet Types:
A bathtub faucet is a crucial bathroom accessory, as it determines the water flow and temperature. There are different types of bathtub faucets available in the market, each with its unique features. Wall-mounted faucets are perfect for small bathrooms as they save space being installed on the wall above the bathtub. Deck-mounted faucets can be mounted onto the bathtub itself and come in various styles to match your bathroom décor. Freestanding faucets stand alone and are ideal for clawfoot tubs or freestanding bathtubs.
Waterfall faucets provide a unique and luxurious touch to your bathroom, with their cascading flow of water. Thermostatic faucets allow you to set and maintain consistent water temperature even when the water pressure changes, providing maximum comfort during your bath.
When choosing a bathtub faucet, consider its functionality and aesthetic appeal, depending on your personal preferences and bathroom style.
Bathtub & Shower Combos:
When it comes to bathtub faucets, there are several types to choose from, including wall-mounted, freestanding, and deck-mounted options. For those looking for a versatile and convenient option, bathtub and shower combos are a popular choice. Deck-mounted Faucets can also be a space-saving option as they can be installed directly onto the bathtub itself.
For a sleek and modern look, wall-mounted faucets provide a great option but may require more complicated installation. Freestanding faucets offer a unique and stylish touch to your bathroom but may require more floor space. Ultimately, it's important to consider both functionality and when choosing the right bathtub faucet for your needs.
Freestanding Bathtub Faucet Finishes:
When it comes to freestanding bathtub faucet finishes, there are several options to choose from. Chrome is a classic and versatile finish that pairs well with most bathroom styles. Brushed nickel is a more muted finish that can add a touch of elegance to your bathroom. Oil-rubbed bronze is a darker finish that can add a rustic or vintage feel to your bathroom. Matte black is a modern and sleek finish that creates a bold statement in your bathroom. And finally, polished brass is a bright and shiny finish that adds a touch of luxury to your bathtub faucet.
Ultimately, the choice of finish should complement your bathroom decor and personal style. It's also important to consider the durability and maintenance required for each finish when making your selection.
Conclusion of Bathtub Faucet Features :
In conclusion, choosing the right bathtub faucet features can make a world of difference in your bathing experience. Whether you prefer a traditional look or a modern one, there are plenty of options to choose from. Make sure to consider things like water flow rate, installation method, and finish when making your decision. If you need help selecting the perfect bathtub faucet for your home, check out our comprehensive guide on choosing the right features and finishes for your bathtub faucet.