The kitchen sink area is the heart of your home, and one of the most important components in a functional kitchen is a faucet. It's not just about functionality, but it can also add style and personality to your kitchen. With so many options available in the market, choosing the right one can be overwhelming. But don't worry, we have got you covered.
In this blog, we will discuss everything you need to know about kitchen sink faucets, including how we selected the best ones for 2023. We will also list down our top 5 picks that cater to every taste and budget. Whether you're looking for a modern look or a classic design, we've got something for everyone. So let's dive in and discover which kitchen sink faucet will enhance your home in 2023!
What Is a Kitchen Sink Faucet?
A kitchen sink faucet is a fixture that is mounted above the sink and used to dispense water for washing dishes, filling pots, and other kitchen related activities. There are various types of kitchen sink faucets available in the market with varying styles, materials, sizes, and prices. Kitchen sink faucets come in different materials such as brass, chrome, or stainless steel.
While choosing a kitchen sink faucet, it's important to consider your needs and preferences. Some may prefer a more traditional design while others might opt for a modern one. The size of your sink and your budget also plays an important role in determining the right faucet for you. With so many options out there, it should be easy to find one that best suits both your style and practical needs.
How We Selected the Best Kitchen Sink Faucets:
A kitchen sink faucet is a vital component of any kitchen, as it allows for easy access to water when cooking and cleaning. When selecting the best kitchen sink faucets for our list, we looked at a variety of factors including style, function, and durability.
To ensure that our list included only the best options available, we considered products that were easy to use and came with a variety of features. Additionally, we made sure to include products that were affordable and came in a range of styles to fit any home decor.
When choosing a kitchen sink faucet, it's important to consider your specific needs. Do you need a high-arc faucet for filling large pots? Or do you prefer a sleek and modern design? By taking into account your individual preferences and requirements, you can select the best kitchen sink faucet to enhance your home in 2023.
The 5 Best Kitchen Sink Faucets of 2023
The right kitchen faucet can enhance the overall look and feel of your kitchen while also providing functionality. Here are our top 5 picks for the best kitchen sink faucets in 2023:
1) Copper Kitchen Faucets: Warm, inviting, and elegant, copper faucets add a touch of sophistication to any kitchen. 2) Modern Faucets with a Touch of Class: Sleek designs with unique features will make your kitchen stand out in style. 3) Stainless Steel Kitchen Faucets: Durable and long-lasting, stainless steel is a versatile material that works well with any kitchen decor. 4) Feature-rich Kitchen Faucets: Choose a faucet with features such as water flow rate, spray pattern, and temperature control to make cooking and cleaning more efficient. 5) Sleek & Simple Kitchen Faucets: If you prefer a minimalistic look in your kitchen, sleek and simple faucets are the perfect choice.

Whether you want a classic or modern look for your kitchen sink faucet, these options provide quality materials, style, and function to elevate your home's interior design.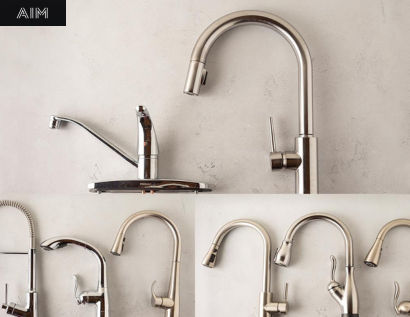 Furious Pull Down Single Handle Kitchen Faucet:
One of the 5 Best Kitchen Sink Faucets of 2023 is the Furious Pull Down Single Handle Kitchen Faucet. This sleek and stylish faucet features a pull-down nozzle and is made from durable brass with a rust-resistant finish. The single handle design makes it easy to use, while the built-in water level indicator ensures that you always have enough water for your needs.
Whether you're looking to upgrade an old kitchen sink faucet or are building a new home, the 5 Best Kitchen Sink Faucets of 2023 offer a range of options to suit any style and budget. From modern designs to classic looks, these faucets are sure to enhance the functionality and aesthetic appeal of your kitchen.
Best Budget:
A budget-friendly kitchen faucet can still provide all the necessary features you need in a kitchen faucet. When looking for a budget kitchen faucet, it's important to consider the water flow rate and opt for one with high water flow rates to ensure that your daily tasks get done effectively.
A spray feature is another essential feature to consider, as it helps reach those hard-to-reach spots while washing dishes or cleaning up. Similarly, a hose attachment can come in handy when you need to fill up pots or pans that don't fit in the sink.
A built-in timer is also worth considering as it allows for efficient water usage and helps save money on your utility bills. Lastly, choose a kitchen faucet that's easy to clean and maintain, which will keep your kitchen looking neat and clean. With these features in mind, you're sure to find an excellent budget-friendly kitchen faucet that suits your needs.
Conclusion:
In conclusion, your kitchen faucet is a crucial element in your home's overall design and functionality. It's not just about the aesthetics; it should also be practical and efficient. Our experts have selected the top 5 best kitchen sink faucets of 2023 based on their durability, design, and performance. Whether you are looking for a high-end option or an affordable one that doesn't compromise on quality, we've got you covered. Check out our comprehensive guide to find the perfect faucet to enhance your home.